February 23, 2021
Justin Matthews
Comments Off

on The UFC Stars Kicking Chinese Martial Arts Into a New Era
Li Jingliang has spent more than a decade establishing himself as an elite fighter in the world of mixed martial arts, with an explosive style and vice-like choke holds that earned him the nickname "The Leech." But outside the cage is where the 32-year-old makes his biggest impact.
"As well as fighting, what I'm trying to do is change the landscape of MMA in China," Li tells Sixth Tone. "Little by little, step by step, I'm letting people know what I know."
Now ranked 12th in his division in the Ultimate Fighting Championship (UFC) — the highest rank achieved by a male Chinese athlete in the promotion — the welterweight born in the Xinjiang Uyghur Autonomous Region has emerged as a star with real clout in China.
The charismatic fighter has acquired millions of followers on social media, appeared on TV talent shows, and even performed with rock bands. And he's using this platform with one goal in mind: to inspire a new generation of Chinese mixed martial artists.
What I'm trying to do is change the landscape of MMA in China.
– Li Jingliang, UFC fighter
Li's feeds are filled with training videos explaining MMA and encouraging people to try it out. Each Saturday, he's in a park near his Beijing home, running free sparring classes for local children.
"Martial arts is rooted in our culture," Li says. "I'm giving these kids a basic understanding of martial arts, and of mixed martial arts. I've committed myself to this and being seen in public is part of that. It's spreading the message."
Li is part of a rising generation of Chinese fighters reshaping the UFC. They're not only bringing legions of new fans to the sport, but also forging links between the worlds of MMA and Chinese martial arts that could turn China into a leading producer of fighting talent over the next few years.
MMA is often considered the world's fastest-growing sport. Emerging in the early '90s, it sees fighters compete using a mix of different combat skills, with techniques drawn from the likes of Brazilian jiu-jitsu, kickboxing, wrestling, and muay thai.
But until relatively recently, MMA and its most famous franchise — the UFC — had barely made a dent in the Chinese market. Despite the country's rich martial arts history and huge grassroots participation in combat sports, few Chinese fighters had heard of the UFC just a decade ago — let alone aspired to compete in it.
Zhang Tiequan celebrates after defeating Jason Reinhardt of the USA during their featherweight bout at UFC 127 in Sydney, Australia, Feb. 27, 2011. Josh Hedges/Zuffa LLC/People Visual
That's changing dramatically, however, as a handful of Chinese athletes start to find success in the octagon. The first UFC bout featuring a Chinese fighter came on Feb. 27, 2011, with Zhang Tiequan defeating the American featherweight Jason Reinhardt at UFC 127 in Australia.
Today, China has 12 fighters competing in the UFC, and it even has its first world champion: Zhang Weili, who claimed the women's strawweight title in 2019. Like Li, the 30-year-old Zhang — who isn't related to Zhang Tiequan — sees herself as a role model for young Chinese athletes and encourages them to follow the path she has forged in life through her dedication to martial arts.
"Years ago, a UFC championship looked far off in the distance for China," Zhang Weili said ahead of her most recent title defense, an epic split-decision victory over Poland's Joanna Jędrzejczyk in Las Vegas last March. "Now, we have it, and I hope I can give Chinese fighters more motivation to fight."
Zhang Weili's breakout victories have helped the UFC rapidly emerge as one of China's most popular sports franchises. In 2020, the promotion's following on China's Twitter-like Weibo grew nearly 40% to just under 2.2 million, while on Douyin — China's version of TikTok — it jumped 157% to 7.1 million, according to figures supplied by the UFC.
Zhang Weili celebrates following her split-decision victory over Joanna Jedrzejczyk of Poland in their UFC strawweight championship fight during the UFC 248 event in Las Vegas, USA, March 7, 2020. Jeff Bottari/Zuffa LLC/People Visual
"Chinese fighters are having a huge impact on getting the UFC into the mainstream," Kevin Chang, senior vice president of the UFC's Asia-Pacific operation, tells Sixth Tone. "It's not just Zhang Weili, it's extending into up-and-coming athletes and our veterans. All of them are trending."
As its fan base in China grows, the UFC is increasingly looking to the country to expand its roster of fighters. The promotion itself is investing heavily to develop Chinese talent, opening a $13 million performance institute in Shanghai in 2019, where 40 top young athletes are currently training.
A number of people inside China's MMA scene, meanwhile, tell Sixth Tone the UFC's growing profile is attracting more young athletes to take up the sport. "The Leech" knows firsthand how important this shift could be.
Now, there's more attention on MMA than on any other combat sport in China.
– Li Jingliang, UFC fighter
As a child growing up in the Xinjiang countryside, Li started off as a wrestler and was even offered a wrestling scholarship by a local sports academy. But watching his first MMA event on television in 2008 "changed everything," he says, convincing him to move to Beijing and try to make it as a pro fighter.
"In my generation, if a person said, 'I want to be an MMA athlete,' there were a lot of critics — in society, among your family and friends," Li says. "They just didn't know what it was. I was very lucky, because my parents supported me … But now, there's more attention on MMA than on any other combat sport in China."
Yi Xiemu is one of the young hopefuls hoping to become China's next UFC star. The 16-year-old trains at the Enbo Fight Club — a gym in the southwestern city of Chengdu that hosts around 400 fighters, some of them local orphans.
"I like MMA because it's so powerful," says Yi, who grew up in Aba Prefecture, a remote area northwest of Chengdu. "Training is very tiring, but I can persist … I've learned that in MMA, you have to continue training, keep fighting no matter what."
At Enbo, Yi benefits from training every day with UFC professional Su Mudaerji. The 25-year-old flyweight, currently ranked 14th in his division, has been in the club since he was a boy and now plays an important role mentoring its junior members.
"I want to show them what's possible if you work hard enough," Su, also an Aba Prefecture native, tells Sixth Tone.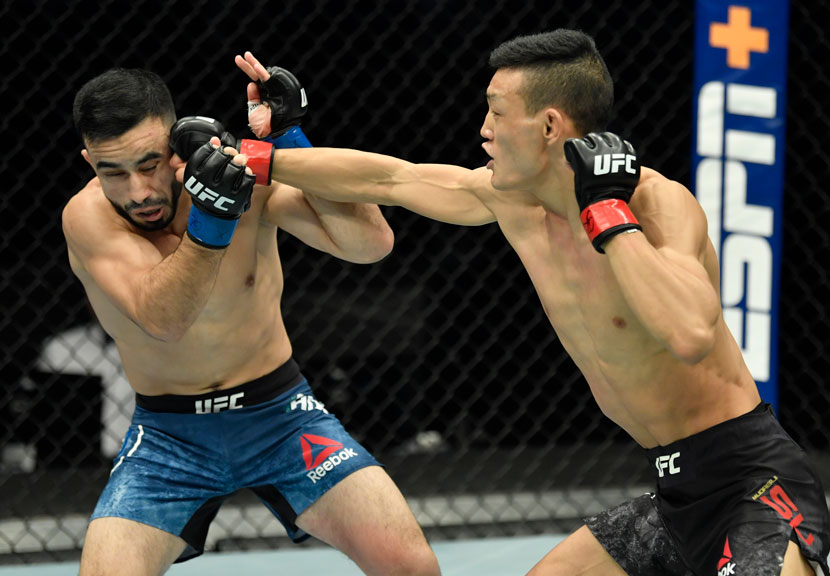 Su Mudaerji (right) punches Zarrukh Adashev of Uzbekistan during their flyweight bout at the UFC Fight Night event in Abu Dhabi, United Arab Emirates, Jan. 20, 2021. Jeff Bottari/Zuffa LLC
Zhang Tiequan, China's first UFC fighter, is also using his experience to welcome a new generation of fighters. Since hanging up his gloves in 2012, the now-42-year-old has become a driving force behind China Top Team —one of the country's leading MMA gyms. As a coach at the Beijing-based facility, he's already helped chart the rise of Li, as well as the surging talent Yan Xiaonan, UFC's third-ranked women's strawweight.
Chinese gyms have a natural head start when it comes to training world-class fighters, according to Zhang Tiequan. Unlike in other countries, where fighters normally transition from wrestling or jiu-jitsu to MMA, many Chinese youngsters start out training in kungfu or sanda — a native form of kickboxing that also incorporates wrestling and foot sweep techniques. Zhang followed this route himself, and he believes the wider range of skills he honed through sanda gave him an edge in the cage.
"I started as a wrestler, then I was introduced to sanda," says Zhang. "I could box, I could kick, I could wrestle. I think this sport gives Chinese fighters an advantage when it comes to MMA and the UFC because of those skills."
Song Yadong, the UFC's 14th-ranked bantamweight, echoes this sentiment. His fighting career began at just 9 years old, when he convinced his parents to let him train at one of the famed kungfu schools surrounding the Shaolin Temple in Central China. From there, he transitioned into sanda, then began training with Chengdu's Enbo Fight Club, before completing his MMA apprenticeship under the tutelage of UFC Hall of Famer Urijah Faber in California.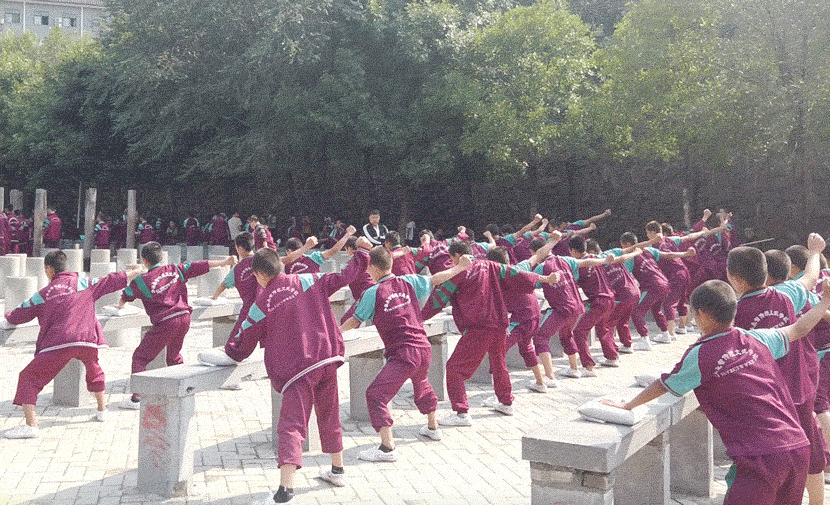 Students practice open hand strikes at the Shaolin Yongzhi Kungfu School in Dengfeng, Henan province. Courtesy of Matthew Scott
"Those kungfu skills I learned when I was 9 made me even more talented when I was practicing mixed martial arts," Song tells Sixth Tone. "Chinese martial arts inspired me and taught me to mix the static with the dynamic, to understand that things can be true and false, and to fight with a capricious style."
To many in China's MMA circles, Song's journey from Shaolin to UFC success is a blueprint for the future. Joe Qiao Bo, a veteran MMA coach and ambassador for the sport in China, says the country's martial arts schools are filled with young fighters with the potential to become pro MMA fighters.
"There are a lot of young people getting into MMA, but the real numbers — the real giant pool of fighters — is still not activated," says Qiao. "The real numbers are still in martial arts schools."
In the area around the Shaolin Temple alone, there are scores of martial arts venues, some of them housing as many as 40,000 teenage students. Qiao, who also serves as a consultant for the MMA department of the Chinese Boxing Federation, spends much of his time in the region, working to deepen ties between the schools and the fledgling MMA movement.
"We are trying to activate that connection," he says. "They (the students in Shaolin) are teenagers, and now is the perfect time to introduce them to MMA."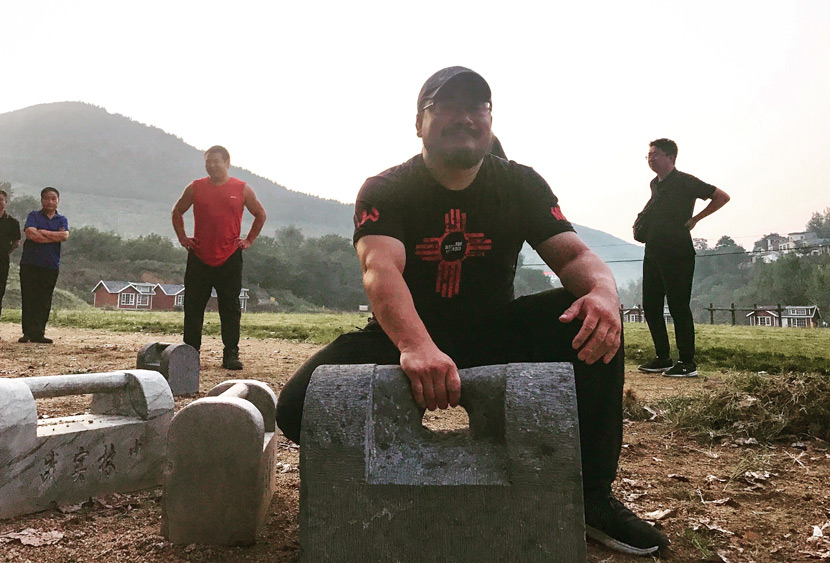 Joe Qiao Bo visits the Shaolin Yongzhi Kungfu School in Dengfeng, Henan province, 2019. Courtesy of Matthew Scott
Wang Zhan, a coach at the Enbo Fight Club, has already noticed an uptick in the number of kids arriving in Chengdu from Shaolin, wanting to learn the new sport.
"In the past three years, many people have been joining," says Wang. "The UFC has indeed improved everyone's knowledge of MMA in China … There are many fighters like Song Yadong."
There are a lot of young people getting into MMA, but the real giant pool of fighters is still not activated.
– Joe Qiao Bo, MMA coach
Meanwhile, there's an ongoing effort to build up MMA as an amateur sport in China, ensuring young fighters have more opportunities to develop before turning pro.
As elsewhere, MMA was for professionals only in China until just a few years ago. But in 2012, the International Mixed Martial Arts Federation (IMMAF) was set up to turn MMA into a globally recognized amateur sport. One day, the goal is for MMA to be accepted as an Olympic event.
The IMMAF and the Chinese Boxing Federation have begun organizing amateur competitions and promoting coaching programs in China. Chinese fighters also regularly compete in the IMMAF's global competitions, with Han Guangmei the current women's world bantamweight champion.
Qiao, who coordinates the work of the Chinese and international bodies, views these initiatives as vital to getting the sport on more sustainable footing."We need to build a pathway for the fighters," he says. "We need to push this toward the Olympics, like other combat sports."
If these efforts pay off, China may once more emerge as a global center for combat sports. According to Qiao, if Chinese fighters dig deep enough into the country's martial arts heritage, they could even show the UFC a new way to fight.
"In MMA right now, people will either strike or they'll do grappling," he says. "But the beauty of real kungfu lies in the middle. How do you put your opponent off balance, and then strike? There is an element of this tripping in kungfu that no one is using in MMA. I call this the missing link. That's what we're working on now."
Editor: Dominic Morgan.
(Header image: Li Jingliang reacts after his knockout victory over Santiago Ponzinibbio of Argentina in a welterweight bout during the UFC Fight Night event in Abu Dhabi, United Arab Emirates, Jan. 17, 2021. Jeff Bottari/Zuffa LLC/People Visual)
Original Article:
https://www.sixthtone.com/news/1006856/the-ufc-stars-kicking-chinese-martial-arts-into-a-new-era